How to stay connected with a loved one with memory loss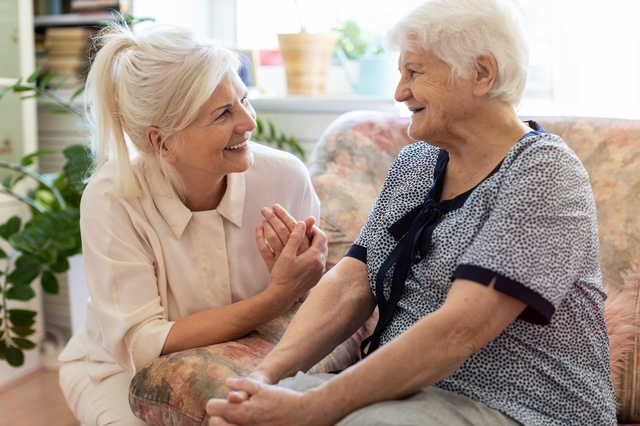 Memory-related illnesses like dementia can be heart-wrenching diseases for the patient, and for their friends, family and caregivers. It's common for people with dementia and other memory-related illnesses such as Alzheimer's, Parkinson's and Huntington's disease to feel isolated and depressed as their memory and ability to communicate declines.
Recent studies suggest that about 30 to 40 percent of patients with dementia also experience depression.
Wondering how to connect with someone with memory loss? One of the most meaningful ways you can support someone with memory loss is to stay present and connected.
How to Stay Connected With a Loved One With Memory Loss
People with dementia may be easily overwhelmed as they deal with new cognitive challenges. Here are some tips on how to help connect with someone with memory loss:
Limit distractions. Turn off the TV and reduce ambient noise if you can.
Stay positive, patient and kind.
Don't worry if your conversation isn't deep or enlightening.
Be together in a shared space. Whether in-person or virtual, spending time together builds comfort and contentment.
Don't stress about what you actually talk about. Even if you have the same conversation over and over, it's your presence that's important.
How To Talk to Someone With Memory Loss
There are a few ways you can talk with someone with memory loss that can help you avoid adding any stress to your loved one. Keep things simple! For example:
When choosing your words, act as if the person is learning a second language:
Speak slowly and use simple vocabulary.
Use proper names whenever possible.
Avoid pronouns like he, she and they.
Try to stay on topic.
Stick with yes and no questions.
Offer visual cues when possible.
People with dementia often retain long-term memories better than short-term memories. You may do well by reminiscing about events in the distant past.
Be gentle with yourself. There may be times when you don't know what to say. When that happens it's OK to just be quiet together.
Explore More Resources on How to Talk & Connect with Someone with Memory Loss
When helping someone with memory loss, the most important thing you can offer is consistent connection. Here are a few more tips on what you can do to alleviate loneliness:
It may be better to have many small interactions than one long conversation.
If the patient doesn't feel like talking it's OK. Tell stories from your shared past or do a simple activity together. View activity ideas.
Sitting together quietly can still ease loneliness.
It isn't always the words that matter. It's the friendship you share that helps the person you're with feel loved and validated.
Check out these resources from Hello4Health for more ideas on how to connect:
For more details and support on how to support someone with Dementia or Alzheimer's disease visit:
More from Allina Health: